In the Spotlight: Alex Waldram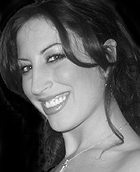 How long have you been a Loft member?
Since January 2008.
How many Loft productions have you been involved with?
Since I joined, I've been involved and helped with costumes in all shows except Duet for One, where I had a couple of weeks off – so I guess that must be seven including Glorious!
What has been your principal area of involvement so far?
Backstage in Wardrobe, helping out with anything I can – sorting costumes, fitting, washing, pinning, sewing split pants and torn hems, dressing, undressing, to-ing and fro-ing, fetching and carrying and sometimes rushing around! I started to help out with lighting as I wanted to learn more about that area too, but slowly wardrobe and costumes took up most of my time; it's my favourite area so no complaints, although I think next year I may try and learn more about other areas again... maybe.
Are you involved with other theatre groups/societies?
No.
Which is your favourite of the Loft shows you've worked on so far?
I've enjoyed all of them, but I think Dry Rot so far, as I was a lot more involved from the beginning. It was set in the 1950s and I love the clothes from that era so that made it really enjoyable. I like shows where the clothes can be really interesting to put together, which is why I'm having a lot of fun with Glorious! as well.
Have you experienced any backstage or onstage disasters?
Not yet!
Have you had any form of theatre training?
I had my first taste of acting when I was about five, playing a bluebird in something at the Albert Hall. I can't remember what it was or why I was a bluebird, but am told it was wonderful (of course!). I took theatre studies and dance throughout senior school and later theatre studies A level, where I focused on costume design. Then I decided to study law, although I stayed interested in theatre and costume design, and now enjoy interfering/helping at the Loft.
What do you do for a living?
Work in a law firm. I can't make that sound any more exciting!
Besides theatre, what are your main pastimes?
Reading anything and everything, writing, drawing/painting, photography, arts and crafts – model/jewellery/greeting card making, lounging about watching a stack of films/sitcoms and bad TV.
What would be your dream show to be involved with at the Loft?
Something where the costumes can be really imaginative and creative. I absolutely loved The Lion King because the costumes were just incredible, the sort of show which made me wish I was involved! Any kind of period piece is always fun to do; A Midsummer Night's Dream has always been one of my favourites, and I'm really looking forward to The Wizard of Oz. I'd like to do something like The King and I, or Into the Woods and... No, I can't choose, I have too many – I'm stopping now!
Alex Waldram
September 2008
Find us at
Loft Theatre
Victoria Colonnade
Leamington Spa
CV31 3AA