In the Spotlight: Amy Baker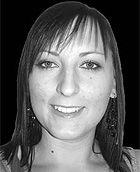 How long have you been a Loft member?
I am actually celebrating my one-year anniversary!
How many Loft productions have you been involved with?
I have worked on every main house production since last season's The Way of the World and also Talk Radio in the studio, so that makes 12.
What has been your principal area of involvement so far?
I work with the Technical Team on lighting and sound and I also help with set building sometimes.
Are you involved with other theatre groups/societies?
No, I am hooked with the Loft!
Which is your favourite of the Loft shows you've worked on so far?
I spend a lot of time with every production; however, I would have to say Talk Radio as I was a lot more involved with the actors and director – we had a great time.
Have you experienced any backstage or onstage disasters?
Operating sound on a show can be tricky as mistakes can ruin the mood of a scene. I have given the wrong sound effect or used the wrong speaker once or twice in the past, but hopefully no one noticed!
Have you had any form of theatre training?
I spent time producing films on my degree course which was in Media. A lot of the equipment we used was similar to the theatre's.
What do you do for a living?
I am the Back of House supervisor at the Leamington branch of Topshop.
Besides theatre, what are your main pastimes?
I am currently on a dressmaking course which I'm enjoying very much.
What would be your dream show to be involved with at the Loft?
I would love to work on a musical, so I'm really looking forward to next April's Loft production of Into the Woods.
Find us at
Loft Theatre
Victoria Colonnade
Leamington Spa
CV31 3AA