In the Spotlight: Angie Collins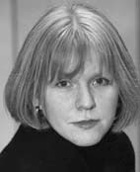 How long have you been a Loft member?
On and off since 1988.
How many Loft productions have you been involved with?
I haven't kept count, sorry.
What has been your principal area of involvement so far?
I joined to act, but these days I mostly do props, which I enjoy for the creative aspects and problem solving, rather than the washing up and resetting afterwards...
Are you involved with other theatre groups/societies?
Not any longer, though I used to be a member of the Talisman Theatre.
Which is your favourite of the Loft shows you've worked on so far?
For acting, A Streetcar Named Desire, which made me some very good friends, and which allowed me to work for (and argue with) Gordon Vallins, who put up with me and still seems to like me despite it all. For props, lots of shows have had great moments, but my two favourites are Dealer's Choice, which was very 'proppy' and for which I designed the set and interfered with the direction, and Breaking the Code, which had hardly any props, but was so simply and well done. I would also like to mention Aristocrats; I wanted to take Craig Shelton home, as his character (Casimir) was so sweet!
Have you experienced any backstage or onstage disasters?
I'm admitting nothing!
Have you had any form of theatre training?
Combined English and Theatre degree.
What do you do for a living?
I am a draughtsperson, increasingly called a CAD technician these days.
Besides theatre, what are your main pastimes?
Books – wide and weird taste; television and film – watching rather than discussing and dissecting; sewing – just finished a patchwork top for a quilt; music – apart from listening to and singing, I write song lyrics, which of course will never see daylight; gardening – if it manages to survive, it isn't my fault!
What would be your dream show to be involved with at the Loft?
I still want to be Sally Bowles; she can be older and fatter and more desperate, can't she? I'd also like to play Beatrice in Much Ado About Nothing, and I guess the above would have to apply to her too... I also had an idea about a war season, including a show of war songs from as many eras as possible...
Find us at
Loft Theatre
Victoria Colonnade
Leamington Spa
CV31 3AA