In the Spotlight: Bryan Ferriman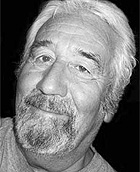 How long have you been a Loft member?
Since 1969, I think. I do remember horses on the streets. As I was living some distance away it was 1970 before doing my first production – a thriller. The moustache that I grew looked like something used for clearing blockages in difficult plumbing situations.
How many Loft productions have you been involved with?
Must be close to fifty.
What has been your principal area of involvement so far?
Mostly acting and a little directing. I have, however, tried to encourage the idea that, though a mere male, I can make coffee when called upon and I do like to do Front of House when not otherwise involved.
Are you involved with other theatre groups/societies?
I have, at different times, been a member of the Priory and Talisman in Kenilworth and the Criterion in Earlsdon. I am still a Talisman member.
Which is your favourite of the Loft shows you've worked on so far?
Far too many, but I remember, with great pleasure, playing Rosencrantz here in 1973 in Stoppard's wonderful Rosencrantz and Guildenstern are Dead. Great to see that we are about to do it again. More recently Gordon Vallins' firm hand directing Inherit the Wind and Vanessa Comer's delicate touch with The Cripple of Inishmaan were a joy.
Have you experienced any backstage or onstage disasters?
For the first Peter Pan someone designed a fancy flying system involving a trolley which crossed the roof of the stage. The pirates – I was one – were required to catch Liz Aston, playing Peter, as she came off stage. On the first occasion she crossed the stage low, smiling and at speed. We brave pirates lost our bottle and failed to catch her. She passed over our heads, failed to grab anything and swung back onstage upside down where she swung and rotated gently. Still had the smile though! What a trooper!
Have you had any form of theatre training?
I did go on a few British Drama League Summer Schools, but my interest really stemmed from taking a part, at 15, in a school production directed by a returning Old Boy then in the resident company at the Oxford Playhouse. The said Old Boy was Ronnie Barker.
What do you do for a living?
Try to persuade the bankers to take their minds off Tuscany and trousering their bonuses and to apply their genius to protecting my pension fund.
Besides theatre, what are your main pastimes?
Pottering about in Greece with my wife a couple of times a year. Increasingly it feels like a second home. I used to do a great deal of swimming and still try to get in a couple of sessions per week.
What would be your dream show to be involved with at the Loft?
Tiny Tim in A Christmas Carol.
Bryan Ferriman
December 2009
Find us at
Loft Theatre
Victoria Colonnade
Leamington Spa
CV31 3AA