In the Spotlight: Chris Foyer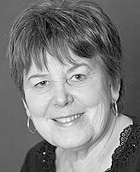 How long have you been a Loft member?
I became a member in 1969.
How many Loft productions have you been involved with?
I'm not sure but I have 'propped' 15 shows including the one I'm working on now.
What has been your principal area of involvement so far?
Mostly Front of House. I first became involved when I started making costumes (at home) in about 1974. David Ellis did a sketch and I was given the material and measurements. I joined the box office team in the mid 1980s, and later became a volunteer in the bar.
Are you involved with other theatre groups/societies?
No, only the Loft.
Which is your favourite of the Loft shows you've worked on so far?
Peter Pan; it was great fun and there were lots of props to make.
Have you experienced any backstage or onstage disasters?
No – touch wood!
Have you had any form of theatre training?
No.
What do you do for a living?
I'm retired.
Besides theatre, what are your main pastimes?
I belong to a book group and a fine arts society. I make jewellery, I like cooking, walking and looking after my grandchildren.
What would be your dream show to be involved with at the Loft?
One without blood!
Chris Foyer
February 2011
Find us at
Loft Theatre
Victoria Colonnade
Leamington Spa
CV31 3AA