In the Spotlight: Fran Hubbard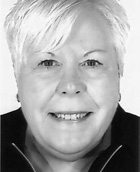 How long have you been a Loft member?
21 years, and counting.
How many Loft productions have you been involved with?
Well over a hundred both in the main house and in the studio.
What has been your principal area of involvement so far?
Handling PR for shows, although I am also part of the team who serve interval coffees (offering an ideal opportunity to talk to patrons and get some useful feedback).
Are you involved with other theatre groups/societies?
I'm the Marketing Manager for local musical theatre group Spa Theatre Company.
Which is your favourite of the Loft shows you've worked on so far?
I've been involved in publicising some terrific shows over the years, but the one that always stands out in my mind is the wonderful 1993 production of Dennis Potter's Blue Remembered Hills.
Have you experienced any backstage or onstage disasters?
No, as I haven't been involved in either area. But there were a couple of occasions, in the days when newspapers sent their own photographers to take press photos – usually on Saturday mornings – when the photographers turned up but the members of cast didn't, resulting in red faces all round!
Have you had any form of theatre training?
None.
What do you do for a living?
Officially I'm retired although, with my Loft and Spa Theatre Company involvement, there are days – and sometimes weeks – when it doesn't feel like it. But I'm not complaining as I love being involved with such talented, creative people.
Besides theatre, what are your main pastimes?
Books, history, music and introducing my two great-nieces to the joys of live theatre.
What would be your dream show to be involved with at the Loft?
Handling PR for the world amateur premiere of the musical Les Misérables – we can but dream!
Find us at
Loft Theatre
Victoria Colonnade
Leamington Spa
CV31 3AA