In the Spotlight: Gary Atkinson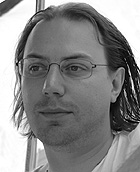 How long have you been a Loft member?
For just over two years.
How many Loft productions have you been involved with?
Most of them since I have been here, so around 20.
What has been your principal area of involvement so far?
Lighting and sound – all the technical stuff.
Are you involved with other theatre groups/societies?
No.
Which is your favourite of the Loft shows you've worked on so far?
I enjoyed watching Dealer's Choice the most. Hamlet, for some reason, was great fun! More recently I found The Hired Man the most rewarding from a technical perspective as it was quite complex and everything went very well.
Have you experienced any backstage or onstage disasters?
On only my second night of operating I managed to play the mobile phone warning instead of a mobile phone ringing during Dealer's Choice. I was quite angry with myself but the rest of the crew were OK with it.
Have you had any form of theatre training?
Not officially. I started doing stage lighting as an extra-curricular activity when at school and carried it on as a lighting and sound designer for the three years I was a student at the University of Liverpool. I was supposed to be studying pure maths. For a student theatre we were very well equipped, and ran everything to a professional standard, just like we do at the Loft!
What do you do for a living?
I design and write computer software for schools.
Besides theatre, what are your main pastimes?
I used to enjoy tearing around racetracks on what are called 'non-competitive track days.' This means you are not technically racing but it's great fun all the same. I really enjoy listening to my music at home and play a bit of guitar, but don't expect any performances.
What would be your dream show to be involved with at the Loft?
I have a few ideas there! I'd really like to explore the possibility of doing something that utilises new technology. We can do things now that were not possible even a few years ago; it's just a case of finding the right show where it would be appropriate. No doubt that'll get a few directors interested!
Find us at
Loft Theatre
Victoria Colonnade
Leamington Spa
CV31 3AA