In the Spotlight: Gus MacDonald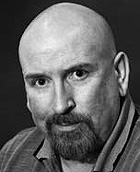 How long have you been a Loft member?
Frighteningly – as I only popped down one night to meet a girlfriend in 1977 – over 30 years. Doesn't time fly...?
How many Loft productions have you been involved with?
Too many to remember! But over 50 in all aspects.
What has been your principal area of involvement so far?
I started 'helping out backstage', then lighting, then SM, then... well the list goes on. I think the only things I haven't done in the theatre are box office and wardrobe.
Are you involved with other theatre groups/societies?
Yes, though obviously not currently. Over the years I've worked at the Talisman, Priory, Criterion, and with all the local musical societies. Mary and I also had our own company, Mac Productions, with which we produced a number of Sondheim musicals.
Which is your favourite of the Loft shows you've worked on so far?
This is a bit like Desert Island Discs, isn't it? You really have to tax the memory cells (or, in my case, cell). I suppose my absolute favourite wasn't strictly for the Loft, even though Mac Productions hired the theatre for it. Into The Woods was just 'one of those shows' – a wonderful experience all round. Cabaret runs it a close second.
Have you experienced any backstage or onstage disasters?
You mean apart from my normal performing ability? My favourite was early in 1980 during a production of Pygmalion. The pillars for the exterior scenes were made of canvas, lit from the inside to look solid, and winched up on a pulley for the interior scenes. One of the wires snapped and the two pillars descended, over a period of about 10 minutes, slowly and serenely into the middle of Higgins's drawing room. Sue Moore and Joe Rowland coped admirably – though the audience were in hysterics!
Have you had any form of theatre training?
Apart from Mrs MacDonald berating me about my lack of breath control, vocal quality and generally moving like a tailor's dummy across the stage – no.
What do you do for a living?
I run two graphic design companies, here and in Vancouver, and tend to sit in a corner, eating donuts and trying to sound important.
Besides theatre, what are your main pastimes?
Golf! At last, a game I can play where being reasonably crap, whilst not acceptable, doesn't prevent you from competing with better players. And watching Munster win rugby's Heineken Cup regularly, whilst trying to keep Mary from running onto the pitch to 'help' the lads.
What would be your dream show to be involved with at the Loft?
The Walworth Farce – a play we were lucky enough to catch at the Edinburgh Festival last summer, and one of the most stunning pieces of theatre I've ever seen.
Find us at
Loft Theatre
Victoria Colonnade
Leamington Spa
CV31 3AA