In the Spotlight: Harry Sanders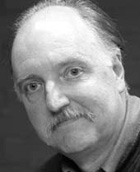 How long have you been a Loft member?
My first involvement with a Loft production was GamePlan in 2005. I had recently joined the Loft and auditioned for David Fletcher's Sherlock Holmes play. Maurice Smith was rehearsing GamePlan and, having noticed that a new member had been recently cast, suggested to me that prompting for his production would be a good way of getting to know people and also the theatre itself. He was absolutely right. It was a great introduction to the Loft which I found to be such a welcoming and friendly place.
How many Loft productions have you been involved with?
15.
What has been your principal area of involvement so far?
Almost all acting; I am also currently the company's Treasurer.
Are you involved with other theatre groups/societies?
No.
Which is your favourite of the Loft shows you've worked on so far?
It is impossible to choose any particular show as I have genuinely enjoyed every production I've been in. Perhaps Vanessa Comer's production of Duet for One with Ruth MacCallum in 2008 was the most satisfying and emotionally rewarding.
I've always envied people's memories of musicals; these memories seem to hold special fondness for those involved – perhaps the exposure of singing or dancing binds the team more tightly, or maybe the big emotional range of musicals draws people together.
Have you experienced any backstage or onstage disasters?
Only forgetting lines – some of which still haunt me in the small hours; the broad sunny uplands of a scene change instantly to a yawning chasm...
Have you had any form of theatre training?
I studied Theatre and Drama at Royal Holloway College; an academic rather than a practically oriented course. I often wonder if more practical training (singing, voice, movement) would give me more confidence.
What do you do for a living?
I am co-owner of a small web development company.
Besides theatre, what are your main pastimes?
I very much enjoy walking and have played golf though I have yet to enjoy doing so.
What would be your dream show to be involved with at the Loft?
I remember a production of Larkrise to Candleford at the National Theatre which I found very moving and which I would love to be involved in. A similar type of production, which I would like to be part of, would be Nicholas Nickleby again based on seeing a production by the RSC. Long Day's Journey into Night and The Elephant Man are also two plays which I would like to see staged at the Loft. Krapp's Last Tape is my own dearest play.
Find us at
Loft Theatre
Victoria Colonnade
Leamington Spa
CV31 3AA