In the Spotlight: James Ruffell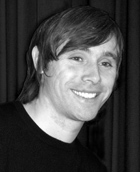 How long have you been a Loft member?
Just coming up to one year.
How many Loft productions have you been involved with?
Eight – in one way or another.
What has been your principal area of involvement so far?
Backstage – as prompt, helping with the rigging, operating lights or as stage manager.
Are you involved with other theatre groups/societies?
No.
Which is your favourite of the Loft shows you've worked on so far?
Each show has brought its own qualities and meant working with different people and situations. Inherit the Wind was a great first production to get involved with – a big cast meant a lot of team spirit and I learnt a lot about theatre. Relative Values was also great fun, but for reasons I will go into below, Arsenic and Old Lace has definitely been the most memorable!
Have you experienced any backstage or onstage disasters?
For a novice stage manager Arsenic and Old Lace certainly had it all. From the summer flooding and having to wade through two feet of water to get to a performance one night, to having an actress fall ill during a show. On the opening night one of the doors on the set jammed shut – leaving actors stuck on stage trying to get off and off stage trying to get on! Closing the tabs for a scene change afforded a bit of time to fix it. The audience were kept amused by the unseen banging and crashing on stage and when the curtain opened there was the door, ripped from its hinges and leaning against the side of the set – I think it deserved a round of applause!
Have you had any form of theatre training?
No. I enjoyed drama at school and was a member of a youth group at the Loft for a brief spell; I'm glad to be involved again!
What do you do for a living?
I am an aspiring architect currently working for a building services consultancy in Stratford.
Besides theatre, what are your main pastimes?
I like painting pictures, distance running and Tai Chi.
What would be your dream show to be involved with at the Loft?
Shows which are ambitious technically are exciting to work on as part of the backstage team and The Hired Man in February promises to be a lot of fun. I'll probably get lynched for this, but how about a theatrical adaptation of Blade Runner?!
James Ruffell
January 2008
Find us at
Loft Theatre
Victoria Colonnade
Leamington Spa
CV31 3AA