In the Spotlight: Katie Ward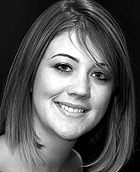 How long have you been a Loft member?
I joined early this year.
How many Loft productions have you been involved with?
Four already this year, and I will be involved next year with The Hired Man.
What has been your principal area of involvement so far?
Mainly props.
Are you involved with other theatre groups/societies?
Not currently.
Which is your favourite of the Loft shows you've worked on so far?
That's a tough one! Each one has brought different experiences and I've worked with some really great people, but I'm going for the easy answer which is my first production, Relative Values. It must have been all right as I've kept coming back!
Have you experienced any backstage or onstage disasters?
Well, I won't be adding 'curtain puller' (tabs in backstage jargon) to my list of talents; one night during final rehearsals, a time when everyone is very busy and you really want everything to go smoothly, I enthusiastically wound the handle – only to hear a huge rip down the main curtain. It needed to be repaired immediately, so rehearsals had to stop – thanks Kate... (At least we ended up in the pub early!)
Have you had any form of theatre training?
In 2006 I completed a BA (Hons) in Model Making for Design and Media in Bournemouth (yes, that's a real degree) but I have always been interested in film and theatre, set and prop design and creation. However, on Aristocrats I helped out in lighting with no past experience – so if you are interested, and willing to give it a go, you can... I did!
What do you do for a living?
I'm currently involved in some freelance animation work; I also work in a pottery studio in Leamington and pull pints in one of the town pubs. I plan to travel early next year so I'm working and saving hard.
Besides theatre, what are your main pastimes?
I enjoy travelling, music, film and theatre, sculpting/painting and just being with my friends.
What would be your dream show to be involved with at the Loft?
Anything that involved fantastic elaborate costume/masks and make-up creations.
Find us at
Loft Theatre
Victoria Colonnade
Leamington Spa
CV31 3AA