In the Spotlight: Kenny Robinson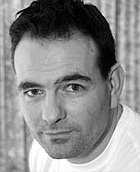 How long have you been a Loft member?
11 years.
How many Loft productions have you been involved with?
15.
What has been your principal area of involvement so far?
A combination, but predominantly acting. One of the most rewarding experiences so far has been creating the soundtrack for Vanessa Comer's production of Brief Encounter with Andy MacCallum – there was never a second of the production that did not have sound running behind it.
Are you involved with other theatre groups/societies?
I have directed and performed for various societies in the area, including the Talisman, Rugby Theatre, Leamington and Warwick Musical Society and Spa Opera. I am very proud to announce that the production of The Mikado I directed for Spa Opera last year has just been awarded best production at the recent NODA awards.
Which is your favourite of the Loft shows you've worked on so far?
What a difficult question, as there have been a few! If I had to choose just one I think it would have to be Athol Fugard's Playland in the studio.
Have you experienced any backstage or onstage disasters?
Yes, both at the Loft and elsewhere! The funniest, in hindsight, was having my rather skimpy costume burnt off me on my opening night in the Escapades Extravaganza at Sun City in South Africa. At the Loft, knocking myself out during the final dress rehearsal of Tom Jones was pretty disastrous, as well as the power failing to the band during a performance of Guys and Dolls – thank goodness for the quick thinking of Craig Lawrence in his first ever production chirping up from the back, "Has anybody got a dime for the meter?" It had the cast and audience alike in stitches and defused what could have been a very awkward couple of minutes whilst the problem was solved.
Have you had any form of theatre training?
I studied Dramatic Art at WITS University in Johannesburg and have had numerous private tutors over the last 20 years.
What do you do for a living?
I work for an independent insurance brokerage in Warwick, The Bateman Group.
Besides theatre, what are your main pastimes?
Golf and triathlon, and I am currently training to compete in an Ironman triathlon in Germany in July, swimming 2.2 miles, cycling 112 miles and then running a marathon.
What would be your dream show to be involved with at the Loft?
There are so many, but a shortlist would include Sondheim's Assassins, Terrence McNally's Love! Valour! Compassion! and Singing in the Rain.
Kenny Robinson
April 2009
Find us at
Loft Theatre
Victoria Colonnade
Leamington Spa
CV31 3AA