In the Spotlight: Margaret Shepherd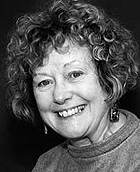 How long have you been a Loft member?
I joined the Loft in 1987 after working with musical societies in Coventry and Leamington since 1979.
How many Loft productions have you been involved with?
I lost count long ago!
What has been your principal area of involvement so far?
I usually costume productions, not on my own I hasten to add, but with a small team. I also sometimes make coffee and do Front of House.
Are you involved with other theatre groups/societies?
No, but I have worked with the Coventry Musical Play Society a long time ago and also more recently with Leamington Spa Opera Group and Heartbreak Productions.
Which is your favourite of the Loft shows you've worked on so far?
I haven't got a favourite as such. What often makes a play memorable is the director, backstage teams and the actors. Some, though, that do come to mind are The Glass Menagerie, Jane Eyre and Dancing at Lughnasa.
Have you experienced any backstage or onstage disasters?
A few! Quick changes in the wings are the usual hang-ups. I have been known to put a dress on back to front; and I once had to make an actor look as though he had been shot in the chest with a cross-bow bolt – if anyone wants to know how I did it, see me!
Have you had any form of theatre training?
I studied for Retail Management with Debenhams and the history of fashion came into the course. Some years later I trained to teach doing a BEd in Fashion and Textiles.
What do you do for a living?
I gave up full-time work eight years ago and now work for a theatrical costumier's in Leamington for a few days a week.
Besides theatre, what are your main pastimes?
I read, visit art galleries and museums, I like quizzes, I do a talking news for the visually impaired, I have as many holidays as I can, visit theatres, see friends. Anyway, who has spare time when involved with the Loft?
Margaret Shepherd
April 2008
Find us at
Loft Theatre
Victoria Colonnade
Leamington Spa
CV31 3AA