In the Spotlight: Margie Bosworth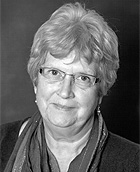 How long have you been a Loft member?
For about 35 years but only 15 as an active member.
How many Loft productions have you been involved with?
Around 25; I started as a maid in Rebecca but the career pathway was limited so I progressed to working backstage.
What has been your principal area of involvement so far?
Mainly backstage as a stage manager; however, when time allows, I can be found behind the bar or front of house.
Are you involved with other theatre groups/societies?
I have been a member of Spa Opera for 39 years. I sang for a short time with the Bach Choir and still sing with a small church choir.
Which is your favourite of the Loft shows you've worked on so far?
I loved being a company member in Sweeney Todd. As a stage manager I thoroughly enjoyed Season's Greetings, King Lear and The Hired Man.
Have you experienced any backstage or onstage disasters?
There was a hanging scene in Habeas Corpus, during which at one performance the rope supporting the noose broke free. This resulted in the hanging man falling off the chair and the guy supporting the rope flying onto the stage in his underwear – as the tabs closed fortunately so modesty was preserved!
Have you had any form of theatre training?
Only elocution lessons at school which involved reciting 'Pretty polly parrot with the pink long tail' many times!
What do you do for a living?
I worked for many years as a Macmillan Nurse but now am sort of retired but still do some work in Myton Hospice.
Besides theatre, what are your main pastimes?
I enjoy going to the opera and to orchestral concerts. I belong to a book club and am involved with many aspects of village life which embraces bell ringing!
What would be your dream show to be involved with at the Loft?
Nicholas Nickleby; I saw the RSC production and would love to see it performed on the Loft stage. It is such a wonderful company production.
Margie Bosworth
November 2010
Find us at
Loft Theatre
Victoria Colonnade
Leamington Spa
CV31 3AA