In the Spotlight: Mike Crisswell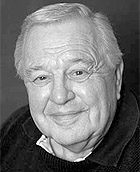 How long have you been a Loft member?
I find it hard to believe but it's about 35 years.
How many Loft productions have you been involved with?
Being part of a lighting team one can be involved in every show in a season. After all those years of membership it must run into the hundreds.
What has been your principal area of involvement so far?
I was treasurer for a while, then vice chair and chair; but my first love has always been lighting design. The best job in the theatre.
Are you involved with other theatre groups/societies?
At one time I was involved in village hall am-dram but not for some years. It was great fun.
Which is your favourite of the Loft shows you've worked on so far?
At my time of life my favourite show is the one I'm lucky enough to be currently working on. Seriously, our first Cabaret, and more recently Peter Pan, come to mind.
Have you experienced any backstage or onstage disasters?
I've had both! On stage I tripped taking a curtain call and ended up flat on the floor. Backstage I once missed a cue and put the show into virtual darkness. These – and others – still haunt me.
Have you had any form of theatre training?
No, but I was blessed being taught lighting by one Peter Bleasby at the Loft.
What do you do for a living?
Accountancy, but I am virtually retired.
Besides theatre, what are your main pastimes?
I enjoy singing and cooking – but not the books!
What would be your dream show to be involved with at the Loft?
A musical with dramatic content. Blood Brothers would be a challenge.
Mike Crisswell
December 2010
Find us at
Loft Theatre
Victoria Colonnade
Leamington Spa
CV31 3AA