In the Spotlight: Phil Reynolds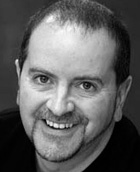 How long have you been a Loft member?
Since 1985. About 20 years ago I bought a life membership while they were still available; it cost £100 which seemed a lot at the time but with hindsight must be one of the best value purchases I ever made.
How many Loft productions have you been involved with?
Around 80 in one capacity or another.
What has been your principal area of involvement so far?
Mainly acting, but I've also interfered in several other departments including Lighting and FOH. I'm currently a member of the Artistic Management (sharing the job of Casting Director with Ann Rayns). I also edit the monthly programme/newsletter and maintain this website – meaning that, for this article, I'm interviewing myself, which takes egocentricity to new heights even for me.
Are you involved with other theatre groups/societies?
I've been a member of the Talisman Theatre for over 20 years, and have also performed at one time or another with most of the major amateur theatres and musical societies in the area.
Which is your favourite of the Loft shows you've worked on so far?
The best roles I've had include Alan Strang in Equus, Ken Harrison in Whose Life Is It Anyway? and Alan Turing in Breaking the Code; but taken overall my two favourite productions have probably been Privates on Parade and My Night With Reg.
Have you experienced any backstage or onstage disasters?
Plenty! One night in Blithe Spirit, the actress playing the doctor's wife didn't turn up so the prompt had to go on in her place with the book. Jem Heynes, playing the doctor, found the experience so unnerving that he made his first entrance (accompanied by the aforesaid prompt) about six pages too soon. I looked up from mixing a martini to see him peering uncertainly at me from the hallway. After a moment's hesitation he decided to plough on and said his first line, which was: "We're not late are we?" I fixed him with a steely glare and replied, "No – you're extremely early." Later, having re-entered at the correct point, all was going swimmingly and the prompt was starting to gain confidence at reading her part – until we got to the seance scene and were suddenly plunged into darkness...
Have you had any form of theatre training?
No.
What do you do for a living?
I'm a freelance proofreader, web designer and voice artist.
Besides theatre, what are your main pastimes?
Music, films, reading, quizzing and travel.
What would be your dream show to be involved with at the Loft?
I fulfilled one of my dreams last year by playing my lifelong hero, Alan Turing, in Breaking the Code. I wish I was a stronger singer as I'd love to play a leading role in a Stephen Sondheim musical like Company or Merrily We Roll Along. Many years ago I played Henry V at another theatre and would love the opportunity to tackle one of the big Shakespeare roles at my home theatre.
Phil Reynolds
January 2009
Find us at
Loft Theatre
Victoria Colonnade
Leamington Spa
CV31 3AA