In the Spotlight: Pippa McCanna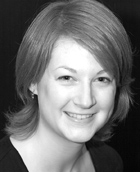 How long have you been a Loft member?
Since December 2006.
How many Loft productions have you been involved with?
Eight, at a guess.
What has been your principal area of involvement so far?
Mainly the technical side – predominantly lighting and sound, but I also assisted with the stage management for Inherit the Wind earlier this year.
Are you involved with other theatre groups/societies?
No.
Which is your favourite of the Loft shows you've worked on so far?
Inherit the Wind. The size of the cast and the enthusiasm of all involved made it really memorable.
Have you experienced any backstage or onstage disasters?
The first time I was left to operate the lights unsupervised, I skipped a cue by mistake. Luckily it was the start of the final act, with enough time to work out how to create a blackout and curtain call for the end of the play, but it involved three of us getting slightly raised blood pressure waiting for the end! I made sure I knew exactly what I was doing the next time!
Have you had any form of theatre training?
I studied Drama at Loughborough University for three years. It was a very broad course, ranging from very academic essay subjects to film making and directing.
What do you do for a living?
I currently work at Warwick District Council, as a Document Management Centre Assistant, which is a complicated way of saying 'I open the post'.
Besides theatre, what are your main pastimes?
I spend as many weekends as I can volunteering on the Talyllyn Railway in Wales. I've been involved for years, and it's so much fun. I get to fire the engines, guard the trains and generally get pretty mucky! And before you ask, I'm not a trainspotter...
What would be your dream show to be involved with at the Loft?
Blood Brothers. I've seen it about seven times and I cry every time! I love a good comedy too – anything by Alan Ayckbourn has me in stitches, so I'll definitely be working on Absurd Person Singular in December.
Pippa McCanna
September 2007
Find us at
Loft Theatre
Victoria Colonnade
Leamington Spa
CV31 3AA