In the Spotlight: Roger Harding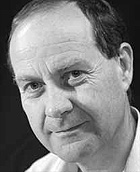 How long have you been a Loft member?
Since 1989.
How many Loft productions have you been involved with?
Oh Lord! Quick answer – over 30 as a performer, another chunk as a director, a couple as writer and goodness knows how many in a support role.
What has been your principal area of involvement so far?
Mostly on stage. The technical bods told me to stick to what I was good at when I offered to do lights. I don't quite know what they meant by that!
Are you involved with other theatre groups/societies?
I am joint director (with Darren Scott) of Two Hats Theatre Company, a touring company based in the Midlands – although we have toured as far away as Norwich. Two Hats also produces corporate entertainments. We are currently working on a musical road safety video for Warwickshire County Council, which is aimed at teaching 3–5 year olds how to use a school crossing patrol. I wrote a mock trial of Guy Fawkes which we produced for the Criminal Justice Board last November. A lot of my time is taken up working with film makers. Recently I have been involved with 13th Day Films, producing a film about the Marian appearances at Fatima, Portugal. I am currently filming a feature length, Schrödinger's Girl, with Entanglement Productions. Please don't ask me to explain it. I don't understand parallel universes.
Which is your favourite of the Loft shows you've worked on so far?
That's an invidious question! I loved the silliness of Salad Days, the quality of Elspeth Dales' performance in A Woman of No Importance, which I directed – and the sheer indulgence of playing Leo, a very boring man who would not stop talking, in GamePlan. The sheer energy and fun of Whodunnit, which I directed, is unforgettable.
Have you experienced any backstage or onstage disasters?
We had to hang an actor in Habeas Corpus – it was all quite safe, honest – until the cleat that was supporting the rope sheared. I heard the bang and reacted instantly to grab the rope. At this point, the hanging victim was heavier than I was – and as he came down, I went up, swinging rapidly on to stage in my Union Jack underpants (don't ask). It's always technical problems that terrify an actor. What do you do when a telephone fails to ring? One actor dealt with this situation by announcing 'Well... I'm off'. He promptly left the stage, leaving two of us wondering how we could cover the situation.
Have you had any form of theatre training?
Guildhall in my youth and fight training at Bristol Old Vic Theatre School. That was quite painful. I think the best training is on-the-job. I learned a lot from an American actor called Ed Bishop when I worked with him at Napton.
What do you do for a living?
I am responsible for all the road traffic accidents in Warwickshire. I manage the database, monitor cluster sites and carry out research to try to cut the numbers of casualties on Warwickshire's roads.
Besides theatre, what are your main pastimes?
I sing tenor with two outfits: Musica in Maschera – a 'Jacobethan' costumed group – and Ensemble 1685, a small choir of astonishing people. We travel all over Europe conducting 'random acts of choral terrorism', as our director would have it.
What would be your dream show to be involved with at the Loft?
Cyrano de Bergerac – provided we can find a good fight choreographer (I think we have one actually).
Find us at
Loft Theatre
Victoria Colonnade
Leamington Spa
CV31 3AA