In the Spotlight: Tim Elmore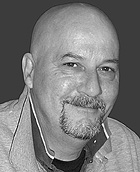 How long have you worked at the Loft?
Ten years.
How many Loft productions have you been involved with?
I would say, give or take, 130 productions, including both studio and main house.
What has been your principal area of involvement so far?
Managing set builds and various aspects of building maintenance.
Are you involved with other theatre groups/societies?
No, the Loft takes up all my theatrical time.
Which is your favourite of the Loft shows you've worked on so far?
They are all favourites! If pushed, I would have to say that it would be a toss up between the first and second shows I designed: Witness for the Prosecution and Duet for One.
Have you experienced any backstage or onstage disasters?
Tricky question! All shows come with their ups and downs. However, I do remember a kitchen door in Arsenic and Old Lace being yanked 'on' stage when in fact it should have opened gently 'off' stage; as a result the cast had to perform the second act with no door on the kitchen!
Have you had any form of theatre training?
I spent my first seven years at the Loft working alongside David Ellis, who taught me everything I know. There is also the knowledge I have gained from the 47 directors that I've worked with over the last ten years which has been an invaluable source of training for which I am very grateful.
What do you do for a living?
Loft Theatre Technician.
Besides theatre, what are your main pastimes?
The Battle of Britain Memorial Flight and Lincolnshire Lancaster Association. Keeping alive the Wars of the Roses period which involves wearing heavy plate armour, foot combat and being hit very hard by other people (sometimes I get the opportunity to hit back). Medieval history in general and heraldry.
What would be your dream show to be involved with at the Loft?
Molière's The Hypochondriac.
Find us at
Loft Theatre
Victoria Colonnade
Leamington Spa
CV31 3AA