In the Spotlight: Tom O'Connor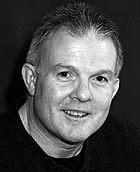 How long have you been a Loft member?
Just on 20 years.
How many Loft productions have you been involved with?
I think it's around 30 up to now.
What has been your principal area of involvement so far?
On stage for the most part though the powers that be have kindly let me direct recently, twice on the main stage and once in the studio with another to come this spring.
Are you involved with other theatre groups/societies?
I've acted in a few plays at the Talisman Theatre and have also been involved with the Irish company Tír na nÓg at times.
Which is your favourite of the Loft shows you've worked on so far?
Not so easy this one as there have been some good memories over the years. In fact I've been lucky to be involved with some great shows, casts and particularly directors. I would have to include all the Friel plays, and also The Playboy of the Western World, Blue Remembered Hills and A Streetcar Named Desire. I do have to say I have also enjoyed directing plays myself and that experience has been great; last year's production Breaking the Code was a real treat.
Have you experienced any backstage or onstage disasters?
Not really (he said touching wood). We had to cancel one performance of Aristocrats because of a leaking roof.
Have you had any form of theatre training?
No, does it show?
What do you do for a living?
I'm a company manager for an Italian based engineering group.
Besides theatre, what are your main pastimes?
It used to be playing rugby for Old Leamingtonians, but since the onset of middle age golf features more strongly. I also like watching my three sons enjoy sports of various types, and still strum and sing with a guitar – though that needs to involve a drink or two.
What would be your dream show to be involved with at the Loft?
I'm not sure how to answer this one as I actually feel as if I have covered quite a few already. Oh go on then, I'd love a crack at Macbeth. Can everyone stop laughing now please?
Find us at
Loft Theatre
Victoria Colonnade
Leamington Spa
CV31 3AA