In the Spotlight: Viki Betts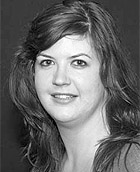 How long have you been a Loft member?
One year.
How many Loft productions have you been involved with?
Collaborators is my second after last October's studio production In Camera (with Hugh Sorrill again).
What has been your principal area of involvement so far?
Mostly stage management, but I have done a few nights' Front of House.
Are you involved with other theatre groups/societies?
No.
Which is your favourite of the Loft shows you've worked on so far?
I can't choose between the two! Both casts and crews have been great fun to work with, but I have had such a laugh during Collaborators. It's a great show with some really funny moments (both intentional and – during rehearsals – sometimes not so intentional!).
Have you experienced any backstage or onstage disasters?
No disasters as such, but I had a rather embarrassing moment while at Uni. We created an outdoor piece inspired by Greek theatre, which resulted in having to run halfway around campus dressed in sheets as the muses. If I remember correctly it was winter and snowing!
Have you had any form of theatre training?
I studied Theatre and Performance at Warwick University for three years.
What do you do for a living?
I am a Customer Support Supervisor for the sales office of Baxi Group.
What would be your dream show to be involved with at the Loft?
I would love to be involved in an Oscar Wilde play – The Importance of Being Earnest is a particular favourite of mine.
Viki Betts
September 2009
Find us at
Loft Theatre
Victoria Colonnade
Leamington Spa
CV31 3AA