In the Spotlight: Julie Godfrey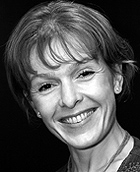 How long have you been a Loft member?
Since 1990. I relocated from Brighton and was delighted to discover that such a brilliant theatre was almost literally on my doorstep.
How many Loft productions have you been involved with?
About 18 although it feels like a lot more.
What has been your principal area of involvement so far?
My involvement has been mainly onstage. However, I have been ASM a couple of times and thoroughly enjoy doing Front of House. Those of you who know me well will be aware that I'm not backwards in coming forwards and always enjoy a good natter, even with total strangers, and doing Front of House gives me an opportunity to do this.
Are you involved with other theatre groups/societies?
Yes, I am a member of the Talisman Theatre. I have also been involved with Side by Side for eight years, but have taken a break from the company this year. Side by Side exists to provide a performance outlet for adults with learning disabilities; and their carers, parents and performers, like myself, work 'side by side' with them in order to help them realise their full potential. I urge you all to go and see their November show at the Royal Spa Centre; I guarantee you won't regret it.
Which is your favourite of the Loft shows you've worked on so far?
It's impossible to pick an absolute favourite, as I have genuinely enjoyed them all for different reasons. Noises Off was great (not to mention exhausting) fun, but I also feel privileged to have played some famous roles such as Gwendolen (The Importance of Being Earnest) and Amanda (Private Lives). Popcorn also stands out as a memorable show and, looking back, I can't believe I had the balls to do the strip routine that the play required, but it was great fun at the time. More recently, I absolutely adored playing Nora in A Doll's House last year. I was far too old, and only agreed to step in when two other actors relinquished the role; but, as it's one of my favourite plays, the opportunity was too great to miss and I just loved it.
Have you experienced any backstage or onstage disasters?
No disasters thank goodness, only minor mishaps. I have cut my hand and bled profusely, not once, but twice on stage. These certainly weren't disasters, but it's very off-putting when you have blood dripping off the ends of your fingers, particularly as you suddenly become aware of how many things and/or people you have to touch on stage. On one of these occasions it took me a while to realise I was bleeding, and as I had touched my face a great deal I was convinced that I must have looked like I'd been involved in a serious accident, but could do nothing about it until I got off stage. More recently, I missed an entrance when someone accidentally tipped a whole cup of coffee over me and the elaborate, white frock I was wearing at the time.
Have you had any form of theatre training?
No, I've learnt 'on the hoof' as it were. I did have a limited spell of private tuition in my youth and always belonged to the drama group at school. In my early 20s I obtained a place at drama school but decided not to take it up. Twit.
What do you do for a living?
I work as a teaching assistant in a special school. No two days are the same and I thoroughly enjoy doing something so worthwhile. Part of my job involves support service work, which entails helping pupils with special needs within mainstream schools.
Besides theatre, what are your main pastimes?
I'm an avid reader and always have a book on the go. I'm one of those weird individuals who loves exercise (and dancing), so I go to aerobic classes and the gym as often as I can. I also enjoy music, the cinema and long walks or bike rides in the countryside when I have the time.
What would be your dream show to be involved with at the Loft?
Aaarghhh! Yet another question that I find really hard to answer. If I had a stronger singing voice, I would list countless musicals here as I love them. More realistically, I guess Les Liaisons Dangereuses, Top Girls and Enchanted April are great shows I'd love to be involved with. Aphra Behn's The Rover is another show I would love to see staged. It's little known and rarely performed, but I think it's fabulous, not to mention amazing – to have written such a great play at a time when writing was not 'the done thing' for a woman is a huge achievement. I have always longed to play Rita in Educating Rita – it's the play that prompted me to get off my bum and join a theatre group, as I loved it so much when I saw it staged at the Theatre Royal, Brighton many years ago. Sadly, my age means that I have to accept that this role has now passed me by. Finally, I would leap at the chance to be involved with something like The Rocky Horror Show; it would be really exciting and interesting to see just how many of the male members of the company would queue up for the chance to wear stockings.
Julie Godfrey
October 2008
Find us at
Loft Theatre
Victoria Colonnade
Leamington Spa
CV31 3AA