Profile: Eleanor Zonik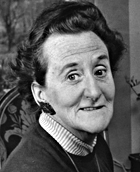 Loft credits
(click a play title to view details)
Also credited as
Eleanor Glaser
Notes
Eleanor Zonik, formerly Glaser, née Farrington, passed away on 24 September 2013 aged 95.
Born in West Didsbury in Lancashire, Eleanor moved to Wellesbourne in 1931 aged 13. She spent the Second World War years driving supplies to military personnel based in the area and met her first husband while delivering to the Czech Free Army stationed in the village.
After Eleanor's first marriage ended, she took up writing as a hobby – a passion which became her lifelong career. As a playwright, her greatest success was having her work Circle of Love directed by Stephen Joseph as the opening production at his theatre in Scarborough. A teacher of drama, elocution and a speech therapist at schools in Stratford and Warwick, Eleanor had licentiates from the Royal Academy of Music and the Guildhall School of Music in the drama section.
Eleanor moved to Harbury when she married her second husband Louis Zonik, a Hungarian refugee, in 1961. They were married for 44 years until his death in 2005. Immersed in village life, Eleanor lived alone until she was 91 and spent her final years at the Boston Lodge for the Deaf and Blind in Coventry.
---
Find us at
Loft Theatre
Victoria Colonnade
Leamington Spa
CV31 3AA