In the Spotlight: Janet Goldson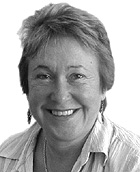 How long have you been a Loft member?
Since 1990.
How many Loft productions have you been involved with?
About 40.
What has been your principal area of involvement so far?
Originally I did perform on stage but then realised that, rather than inflict myself on unsuspecting audiences, I was far more useful backstage, mainly doing props. For several years, I've been head of the Props Department and, when not involved in a show, I enjoy Front of House duties and the all important roles of serving ice creams and coffee.
Are you involved with other theatre groups/societies?
No.
Which is your favourite of the Loft shows you've worked on so far?
Going back a few years, I really enjoyed being in Pinocchio, The Comedy of Errors and Tom Jones as they were really great company shows. Props-wise, Habeas Corpus stands out as it was so much fun to be involved with, and recently Absurd Person Singular, which was a huge undertaking with so many props and back-breaking scene changes but a thoroughly enjoyable and rewarding experience.
Have you experienced any backstage or onstage disasters?
Quite a few, such as realising that an important prop an actor was just about to pick up on stage was actually still in my hand off stage, dropping a tray of crockery backstage during a serious quiet moment in the play and when an actor cut his hand badly on a broken decanter stopper, sticking more and more plasters on the gushing wound each time he rushed off and on the stage until we could bandage him properly during the interval.
Have you had any form of theatre training?
No.
What do you do for a living?
I worked in banking for 30 years followed by a variety of part-time jobs including being a guide on the Stratford-upon-Avon tour buses and working for Heartbreak Productions. I've now decided to call it a day and be a lady of leisure – if only!
Besides theatre, what are your main pastimes?
I enjoy reading, gardening and playing golf.
What would be your dream show to be involved with at the Loft?
Not sure I can think of an answer to this question – although speaking with my props hat on, a play with no props maybe?!!
Janet Goldson
November 2008
Find us at
Loft Theatre
Victoria Colonnade
Leamington Spa
CV31 3AA