Profile: Joe Williams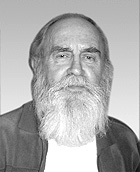 Loft credits
(click a play title to view details)
Notes
Joe made his debut at the Loft in 1963 and played many roles here over the next forty years. He also appeared with the Wheatsheaf Players in Coventry and at the Talisman Theatre, and was a founder member of Tír na nÓg Theatre Company.
The following tribute is by Seamus Crowe.
Even his name suited him; it was apt, Joe Public, Joe Bloggs; any old Joe. It did not draw attention to itself, didn't scream out at you, but was unobtrusive, unmemorable, ordinary, everyman.

And Joe, with an ordinary name and an extraordinary talent, played everyman and every conceivable sort of man from beggar to king, from Sophocles to Shakespeare and along the way Pinter, Orton, Friel, O'Casey, Yeats and a thousand others. To name all the characters Joe played, to recite all the plays he was in, would take stamina and a sustained concentration worthy of a Brian Friel monologue which lasts.... forever. But how rewarding it would be! Joe brought to all the characters he played a reality, a dignity, an insight and, where called for, a warmth and impish sense of fun. To watch him was a privilege; to work with him as a fellow actor or director, an honour.

He was his own most severe critic, always open to suggestion or guidance or help – which he rarely needed. Sometimes, however, in rehearsal he would go over the top and you'd say 'Joe....' and immediately his eyes would twinkle, his mouth pucker, he would slap his wrist and say 'I know, I know' and promptly return to his always disciplined and generous performance.

Joe was regal; he ruled the stage. In all his parts he was good, in most excellent, in some, beyond reach. I loved him especially in his interpretation of the Irish plays, in Synge, O'Casey, Friel, Leonard, Beckett. He became – he embodied – his characters whether terrifying, fickle, giddy or grand. He was one of the outstanding talents of his generation.

And Joe the man?

I cannot imagine what sorrow or grief touched his heart, what deep wounds tormented him, what sense of loneliness and isolation, to lose his mother at twelve and move to a foreign land at fourteen. The sense of loss and abandonment can only be guessed at and one can only feel one's heart contract in pity and horror. Yet Joe never showed that to the world or to his friends, the legion of friends and fans.

Joe found his mother, his family, his love and his life in the theatre; and he loved her absolutely, and she in turn doted on him. And he loved everything about the theatre, the smell, the gossip, the readings, the rehearsals, the performance and especially the competition: curious for this most generous and uncompetitive actor. And his enthusiasm; every new play he read was the greatest, every part terrific and every part he found for you a 'must'.

Joe loved his wine and whisky, he loved his family and adored his adopted grandchildren, he loved his football. But then Joe loved everybody; his heart was big enough to encompass and hug the whole world. And the whole world loved Joe.

It will be a quieter, sadder and lonelier place without him. A great, great talent. A wonderful, wonderful man.
---
Find us at
Loft Theatre
Victoria Colonnade
Leamington Spa
CV31 3AA