Profile: Robert Collingridge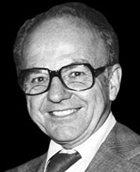 Loft credits
(click a play title to view details)
Notes
The following tribute was written by Denis Hunt.
The death of Bob Collingridge on March 8, 2004, marked the end of an association with the Loft Theatre Company going back 55 years.

At one time or another during those years, Bob was in charge of the Wardrobe, a member of the play selection committee and subsequently its chairman, a member of the Management Committee and a subsequent chairman of that Committee as well, and finally a vice-president of the theatre.

He filled all these positions with distinction; and it was under his direction that a decision was taken to embark on a more adventurous programme in an effort to attract a younger audience. We presented Pinter when he was an exciting adventure and not the commercial proposition that he is today. Two of David Turner's plays, The Prodigal Daughter and Between the Tides, received their world premiere at the Loft and both were directed by Bob.

He was also responsible for establishing the connection with the production staff at the RSC. Pam Ingram from the scenic department designed An Ideal Husband, and Mary Varcoe from the wardrobe staff designed the costumes for a number of Collingridge productions. The introduction of such professional talent set standards which bear fruit in the productions of today.

Bob was not the best actor in the world, as he himself would be the first to admit, but he was a brilliant director and a more than capable administrator. And it is true to say that the Loft as we know it today has much to thank Bob for. After the second fire, which completely gutted the theatre, Bob introduced to the Management Committee a young architect friend, Stanley Sellers, who wanted to design a theatre. Negotiations took place and the commission was given to Stanley. The result is the theatre you see today – built at a most competitive price and with a saving of thousands of pounds.

Perhaps the theatre itself is the best memorial we could have of Bob, a tribute to the long and loyal service he so willingly and happily gave to the Loft.
---
Find us at
Loft Theatre
Victoria Colonnade
Leamington Spa
CV31 3AA